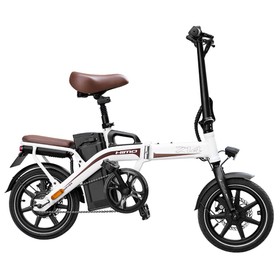 This product will be shipped from Europe warehouse, and only can be shipped to the following countries at present:
UK, Germany, France, Netherlands, Belgium, Italy, Spain, Austria, Portugal, Sweden, Greece, Latvia, Poland, Czech Republic, Slovakia, Slovenia, Finland, Lithuania, Luxembourg, Denmark, Estonia, Ireland, Hungary.(Freight will be charged in remote areas.)
Highlights
250W DC brushless motor that can work at 380 RPM and can generate the maximum speed of up to 25 kilometers per hour. 
It adopts the design scheme of combining electric vehicles and sports bicycles, positive new tires with high wear resistance are used, which are excellent in-ground grip and drainage performance.
There is a hidden inflator design under the saddle. After the tire is accidentally broken, the cushion can be pulled out and used as an inflator, so that you don't have to worry about panic after the tire is out of gas, and you can enjoy riding at ease.
Three modes support arbitrary switching and take turns to add different riding fun to riding. 
Specification
General

Brand: HIMO
Type: Electric Bicycle
Model: Z14
Color: White

Specification
Body Material: Aluminium alloy
Top Speed: 25km/h
Moped Range: ≤80km
Pure Electric Range: ≤60km
Electroc Energy Consumption: 1.2kw·h/100km
Load Weight: 100kg
Battery Type: Li-ion
Capacity: 12AH 
Nominal Voltage 48V
Weight & Size
Product Weight: 25.3
Package Weight: 27.5
Product Size(L x W x H):   1320 x 547 x 1057mm (unfolding), 740 x 817 x 594mm (folded)
Package Size(L x W x H):  800 x 440 x 645mm
Package Contents

1 x HIMO Z14 Electric Bicycle
1 x Tool kit
1 x KEY
1 x Charger
1 x CN User Manual